THE SHOW WILL GO ON!
VIPCA has decided that with a largely intact charter fleet returning to the VI in November, and by popuar vote by CYBA, that we will still run the USVI Charter Yacht Show 2017. Charter Yacht Brokers will be asked kindly to understand that the show will be a more moderate version than the one originally planned with the focus shifted towards hurricane relief and rebuilding our islands and supporting their communities. See The Triton Article published since Hurricanes Ir-Maria by clicking here.
ONBOARD BROKER ACCOMMODATION - OPTIONAL TO VESSEL OWNERS AND CREW.
Vessels are requested kindly to volunteer cabins for Charter Broker accomodation in light of the fact that hotels are out of commission. Brokers will be allocated a vessel cabin at random and pay a nominated amount agreed on by both BVI and USVI shows ($75 per broker per night). Brokers shall be served breakfast ashore at 8am thereby will be off the vessels well in advance of when they will open to viewing. Brokers will also be asked to pay a minimum of $200 donation for their onboard accommodation to the 501(c)3 charity "CFVI Marine Rebuild Fund" (*see CFVI Marine Rebuild Fund details below).
PLEASE EMAIL info@vipca.org BY OCTOBER 15TH TO CONFIRM:
If your vessel will be able to be offer cabins as Broker's Accommodation, if so how many?
If your vessel and crew will be pariticipating in the My Brothers Workshop fundraising Culinary Competition (theme is VI coffee please see website for more details)
If your vessel and crew will be participating in the "Speak Easy" themed Yacht Hop 12th Nov 5.30pm?
If your vessel and crew would be willing to participate in the Schools Dock Walk (14th 9-11am)
If you would like to volunteer in the hurricane relief project at YHG (14th).
If you would like to be included in the vote for the VIPCA BOARD OF DIRECTORS 2018. VIPCA Board is looking for 2 Crew, 1 Owner-Operator, 1 Charter Broker, 1 Management Company, 1 Clearing House and 1 Marine Service Provider.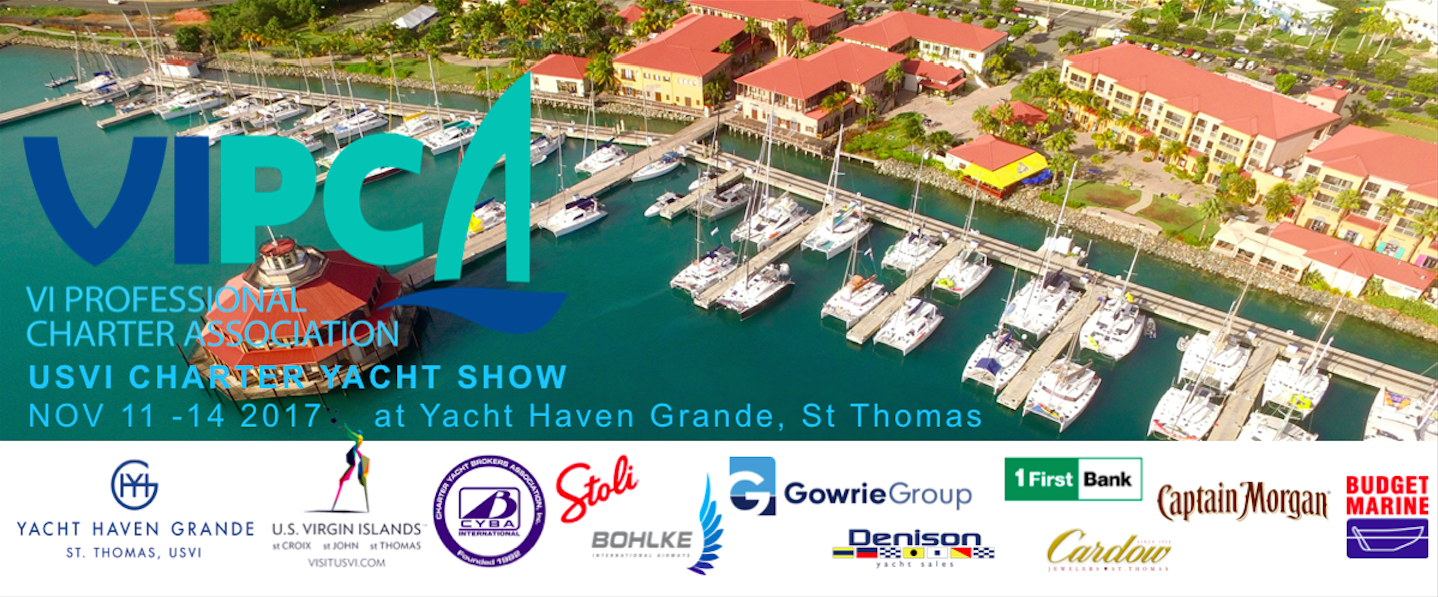 New Brokers, message from CYBA: 
There are lots of yachts to be seen, crews to meet and brokers to fit in. In order, to get the most out of the charter yacht show CYBA recommends that ALL new brokers complete the
New Broker Online Course
 presented by CYBA (Charter Yacht Broker Association).
The course is designed to give you a thorough knowledge of the yacht charter business, and provide a resource for you to refer back to for guidance as your career evolves." Are you former, or soon to be former, crew ? Many of the same have completed the course ahead of you and admit they learnt much more than they thought they would.
Vessels, become a VIPCA Member for over 50% off Yacht Show Registration...
Vessels registering for the Charter Yacht Show pay the reduced Charter Yacht Show registration fee of $400 ONLY IF YOUR VESSEL IS ALREADY A VIPCA MEMBER. Otherwise please pay the full registration fee of $900 to remain a non-member.